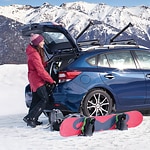 Every driver in Casper, WY wants a compact car with impressive safety features. That is why we here at White's Mountain Subaru present the 2022 Subaru Impreza. Its cutting-edge safety features will keep you and your passengers safe on the road.
The 2022 Subaru Impreza dons a reinforced body structure to protect you and your passengers in the cabin. Eight standard safety features in the interior offer additional protection. The model comes with a default EyeSight Driver Assist Technology, which serves as an extra pair of eyes on the road to monitor your surroundings and offer warnings. The system can apply emergency breaks if need be to avoid an accident.
In addition, the 2022 Subaru Impreza features a Blind-Spot and Rear Cross-Traffic Alert system to keep you aware of happenings around your vehicle. Take advantage of the optional driver-assistance technologies, including Adaptive Cruise Control and Lane Departure Warning System, to increase your confidence on the road.