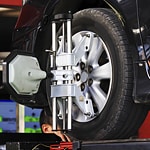 There are several services we offer in Casper, WY that your vehicle needs to ensure it runs efficiently. One essential service is a wheel alignment. Today we're going to provide an overview of alignments for your vehicle.
What Is an Alignment?
A tire alignment, also known as a wheel alignment, refers to an adjustment of your vehicle's suspension. The vehicle suspension is the system that connects your vehicle to its wheel. Many people believe that an alignment deals with aligning the tires and wheels themselves. But the key to a proper alignment is to adjust the angles of the tires to improve the way your vehicle makes contact with the ground.
Signs It's Time for an Alignment
There are several indicators that it's time to get a tire alignment for your vehicle. Here are X signs to think about:
There's vibration from your steering wheel.
Your vehicle pulling to the left or right.
Your steering wheel is uneven when driving straight.